New School Brazilian Jazz Ensemble
ABOUT THE ENSEMBLE
Richard Boukas founded the 
Brazilian Jazz Ensemble
at New School Jazz
in 1995, the first among all New York City area jazz studies programs.
In contrast with the
Brazilian Choro Ensemble
(which features a 140-year panorama of the genre's repertoire in a chamber ensemble setting)
, 
the group's music is contemporary Brazilian instrumental (known generally in Brazil as
música instrumental
) which leans more in the jazz direction and blends acoustic solo instruments with a more intense electric rhythm section.
Selecting pieces which cut across all primary Brazilian genres including
samba, choro, baião, maracatu, marcha
and
frevo
, the featured composer is the prolific genius 
Hermeto Pascoal
and his lineage (known in Brazil as the "árvore" or tree) who are past and current members of Pascoal's legendary group: 
Jovino Santos Neto, Itiberê Zwarg. 
Other brilliant contemporary composers featured include
Guinga
and
Sérgio Santos
. 
Boukas's distinctive arrangements are based on authoritative scores donated by the composers and/or his meticulous transcriptions of landmark recordings. With Boukas as educator-mentor, the players assimilate fundamental vocabularies for each core genre: melodic phrasing and articulation, rhythm section foundations, dynamic soloist/rhythm section interaction and improvisational vocabulary. The result is an ensemble of the highest professional level, acting as ambassador for a brilliant musical repertoire that receives far less exposure outside of Brazil than it merits.
The instrumentation is:
two or three woodwinds, vocals, guitar, piano, bass, drums
.
To date the ensemble has over
seventy pieces
in its diverse repertoire.   
VIVA HERMETO!
In
spring 2016
, Boukas prepared a special new program to commemorate
Hermeto Pascoal's 80th birthday
, 
VIVA HERMETO!
The program consists of fourteen new arrangements including premieres of several pieces by Pascoal written between 2006-11, works by former pianist 
Jovino Santos Neto
and perennial Pascoal bassist 
Itiberê Zwarg
. The concert was
streamed live from
Silvana
 by
Livamp
and performed again at
New School Glass Box Theater. 
Live audio tracks
from both concerts will be up on this page shortly, so check back on this page for updates. Boukas plans to
formally record and release a CD of this landmark program in the fall.
View CONCERT PROGRAM 

VIEW STREAMED PROGRAM FROM SILVANA 

BRAZILIAN MUSIC LESSONS WITH RICHARD BOUKAS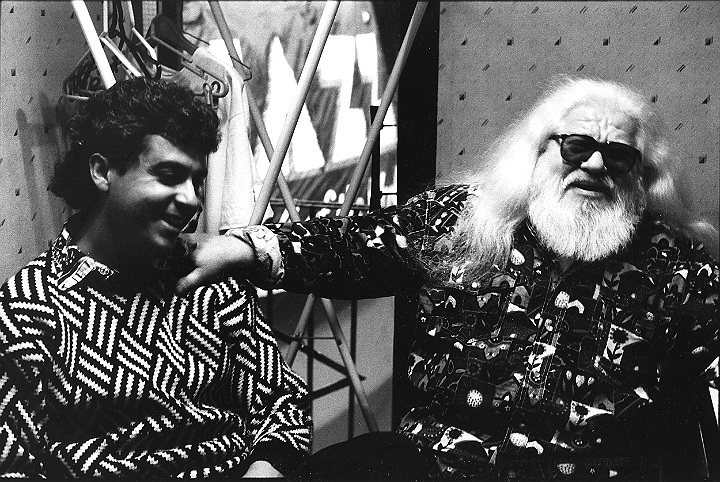 Current Brazilian Jazz Ensemble members are:

Jasper Dutz, woodwinds  
Joel Steinke woodwinds
Kana Miyamoto guest flutist

Arta Jekabsone, vocals                        
Gabriel Chakarji, piano                 
Omer Berger, guitar  

Alex Talarico, bass             
Ben Silashi, drums